Main content starts here, tab to start navigating
Seussville on 2nd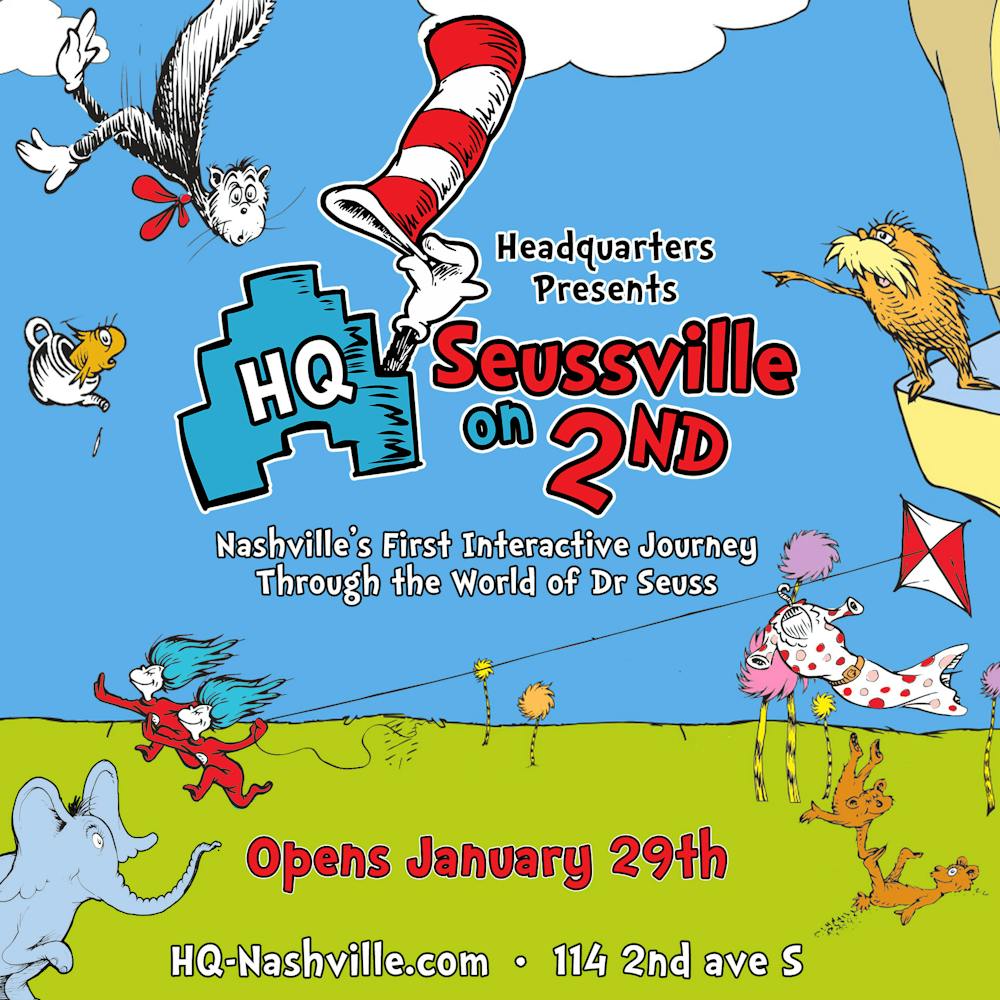 "Fantasy is a necessary ingredient in living."
Headquarters Beercade is a concept that has always prided itself on being an escape from the realities of adulthood. That escape has never been more necessary, and simultaneously more difficult to create than it has this past year.
And yet, despite a year of adversity, we are creating a grander escape than we ever have before, simply because we need it. We all need it.
"Unless someone like you cares an awful lot, nothing is going to get better. It's not."
At everyone's core we all want to put good into the world around us. And at HQ, we love that we can be an avenue for the good; for happiness brought on by a laugh, a good drink, and gathering with friends.
So, as we step into the new year, we invite you once again to escape with us. This time to the wonderful whimsical world of Dr. Seuss. With a dozen immersive scenes and photo ops, a new menu of eccentric cocktails, and a pure escape from the every day; we welcome and encourage you to marvel, play, laugh, and smile--to create new memories and remember all that is good.
"Take every chance. Drop every fear."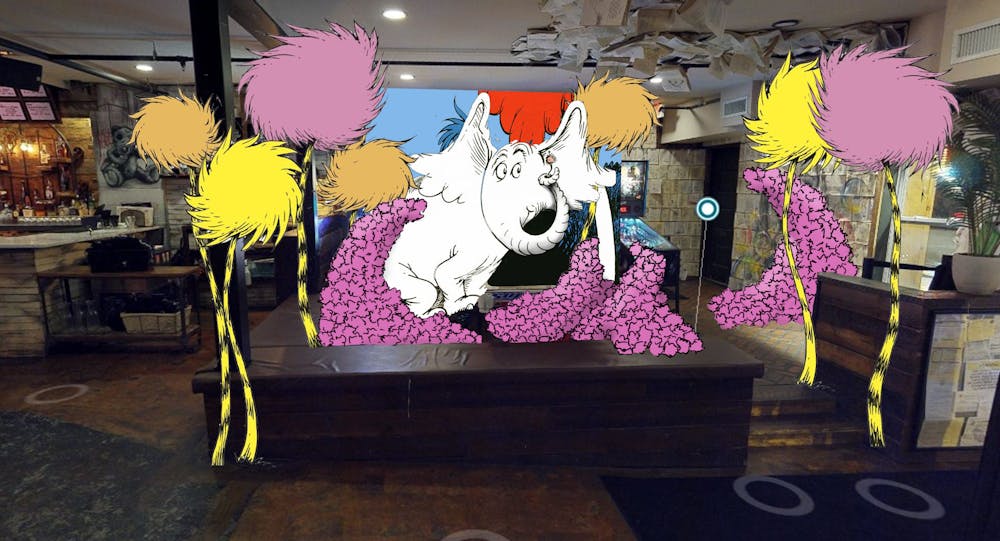 Climb inside the forest of Truffula Trees and sit with Horton in our front lounge. The eight foot tall elephant sits alongside piles of flowers throughout the front lounge.

Get served up a plate of green eggs and ham by Sam I Am himself at our main bar! Six foot Truffula trees envelope each column of the main bar with Seuss flowers adorning the wood and moss backdrop. An eight foot tall Sam I Am hoisting up a plate of his green eggs and ham stands atop the bar greeting all HQ patrons.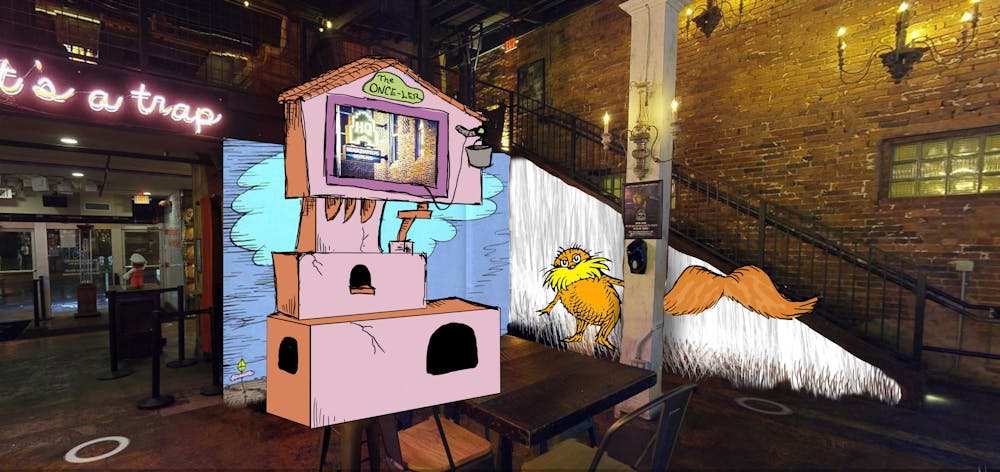 Step into the world of the Lorax with an interactive display of one of the most beloved Dr. Seuss characters. An eleven foot tall Onceler house ascends the railing of the mezzanine and surrounds our 65 inch television. To the right guests can take a photo behind the five foot Lorax mustache, alongside the cherished Seuss character.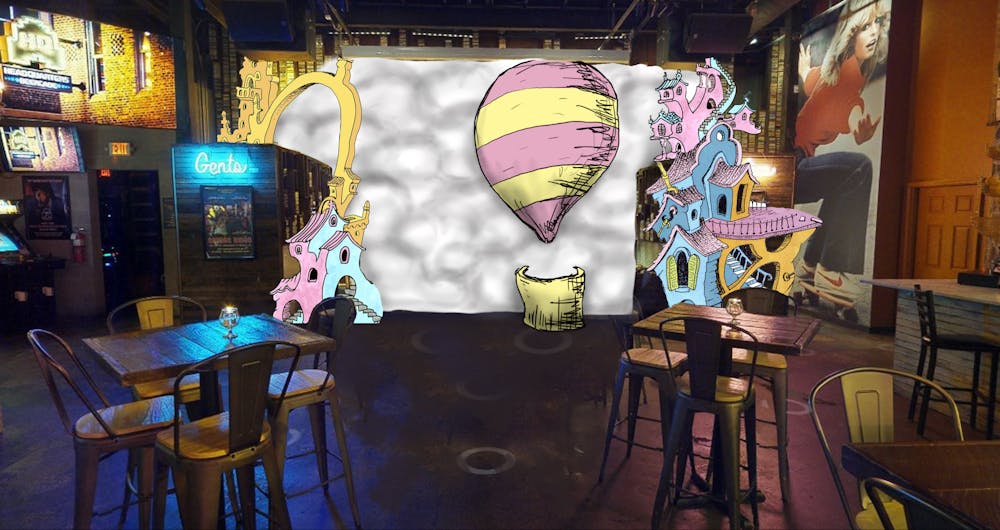 Oh, the places you'll go! The fifteen foot tall scene from perhaps Dr. Seuss' most esteemed piece of literature is the focal point of our main floor. The giant tape wall is covered in cotton clouds flanked by Seuss cityscapes and an interactive twelve foot tall cartoon hot air balloon. "Your mountain is waiting, so get on your way!"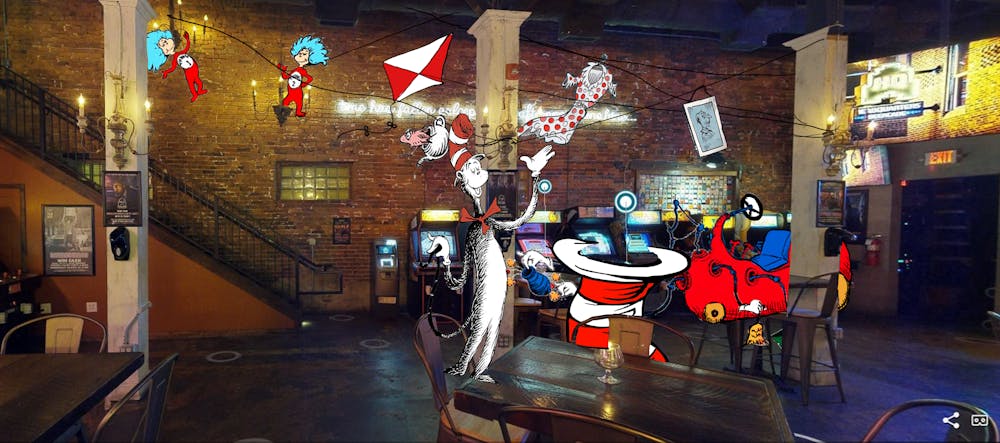 The Cat in the Hat comes to life on the corner of our main floor with an eight foot tall version of Dr. Seuss' iconic character. Adjacent is a three foot tall hat that guests can step inside for a photo or climb inside the life size Whatchamajigger car. Up in the ceiling, Thing 1 and Thing 2 or causing mischief on the chandeliers!

Look up! The entire ceiling is encompassed by a stunning fifteen foot installation of Gertrude McFuzz and her gorgeous feather tail.